As you know I had mentioned changing layout of planting beds in my garden, which is the biggest plan in my garden this year, today I will show you my plan. Look at the picture shown below. That is not painted by my kids but I drew the new layout with "Blackboard" application on my iPad. Actually I feel it so embarrassing to show my "work" since it looks so childish!!
Anyway, yellow areas show planting beds and blue line shows plastic waved panel which works as a wall to bear and bolster soil. Could you see the plastic panel create extra planting beds?
Today's mission is to set up the panel.
Today I bought a roll of a 20meter-plastic waved panel and 15pegs with some hooks at a local home center. The panel costs $10 and pegs $8.00
The peg is so functional for the price that you can see the hook can hold the panel and it can avoid waving and winding on the panel.
I cut grooves 20cm deep and 10m long with my scoop to insert the panel. That was a tough job in a cold winter...
After inserting the panel into the groove I pegged down the panel to bolster the panel with the pegs and that can secure the new planting bed.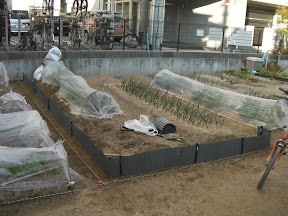 Complition of setting up the panel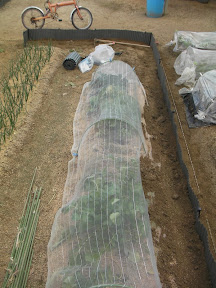 the panel from above
I tried to create new beds along with the panel adding fertilizer, cow manure, rice bran.
But the amount of soil for new beds is less than I thought so I will have to add much soil.
The new bed is narrow due to the shortage of soil.
But I'll remove soil from other beds for the new one and I believe I can deal with that.
Creating new soil bed with digging and removing soil in a cold temperature is so hard that I have backache!
-- from iPad