As I mentioned in
the previous post on changing the layout of planting beds,
much extra soil was needed for making new beds wider.
Today I bought 4 packs of soil mixed with various nutritions and fertilizers and added them to the beds and I could make a part of the beds bigger (about 30cm wide) enough to seed in 3 or 4 lines. I used only 2 packs of them because it was so severely cold and chilly today that I had to quit the job in the middle and to go home!
Tomorrow's weather is also forecasted to be colder than today so I wonder if my vegetables would get frost.
This cold winter reminds me of the theory that severely cold winter might follow so often severely hot summer. Although I don't know well the mechanism, I think the theory is true.
Anyway, the series of the odd weather which I experienced recently might shows how unordinary the global climate has been....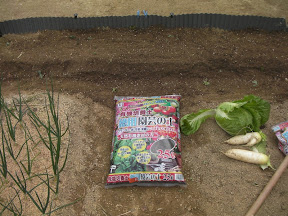 -- from iPad