Today I nipped smaller buds of my potatoes, which is similar to thinning out smaller sprouts of brassicas. As you know a seed potato has 5 or more buds and they will grow soon with sucking up water and nutrition of the seed potato. The more buds on a seed potato means less nutrition to other potatoes to be harvested in the future. That's why we should nip younger and smaller buds.
You can see 5 or 6 buds on a seed potato before nipping.
When we nip them out, we have to be careful for not pulling them out too strongly or a seed potato would be popped out of the soil.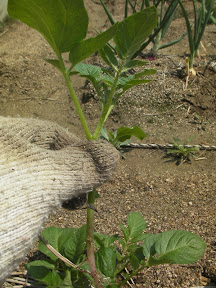 A nipped bud
The appearance before nipping-out.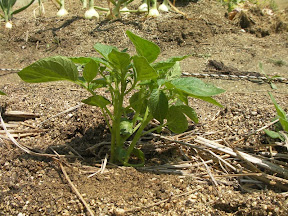 After nipping-out, 2 or 3 buds are left in a seed potato.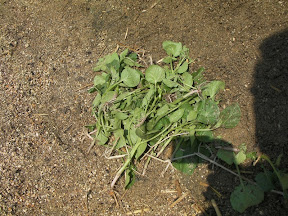 Bunch of nipped buds.
-- from iPad