Thanks to the big help by my family, the new planting bed have been completed.
I am thinking what kinds of vegetables can be planted there the option must be limited due to the cold winter.
Anyway I feel excited and thrilled when I imagine more green, yellow, red,,,colorful vegetables will grow on the new bed and my garden will be filled with more vegetables.
My daughter digs up and gather soil for moving the location of soil beds.
My daughter is flattening the surface of new beds.
My wife is putting daikon's leaves on the bed for fertilizing.
Our new planting bed
Length: 6meters + 2meters = 8 meters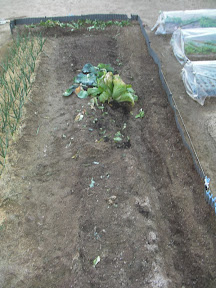 -- from iPad