While my radishes ended up with poor result I and my daughter enjoyed harvesting all of my komatunas and cabbages.
Since I found some snails on komatunas and I am planning to change layout of planting beds, I decided all komatunas should be harvested soon.
We harvested plenty of komatunas today and we have to consume them before our fridge will be filled with vegetables. How could we can cook the amount of komatunas? My wife answered the question by today's dinner.
You see most space of the pot occupied by vegetables!
My wife knows steaming in a pot is a good way to decrease volume of vegetables.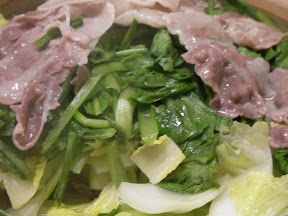 Look at the layers of vegetables! Our stomachs have been filled with komatunas and cabbages!
-- from iPad