How would you deal with extra ripen fruits after you've enjoyed them?
As I introduced ripen kiwi fruits harvested last year, we have preserved extra kiwi fruits even after our family ate a lot of them. They can't be preserved any more and my wife made kiwi fruits jam using all of them.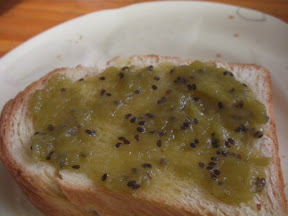 -Ingredients-
1. Ripen kiwi fruits 240grams
2. Sugar 120grams
-Recipes-
1. Peel the skin off.
2. Mash the kiwi fruits in a bowl
3. Add sugar to the mashed fruits. You can change the amount of sugar to your taste. My favorite proportion of sugar and kiwi fruits is 2 (kiwi) :1(sugar)
4. Microwave it for around 4 minutes.
5. Preserve it in a fridge after bottling it up.
-- from iPad