My family and friends of my kids gathered in my garden plot last sunday and enjoyed harvesting onions, komatunas, spinaches and pak chois. Most of my vegetables except from my potatoes are ready to be harvest and especially my onions have grown well so I have to harvest all of them (95 onions) before they will bolt.
My daughter were struggle to pull out my onions, which were rooted deeper than I thought.
My daughter: "I can't pull it out!!"
Most of my onions are so big in good shape that I and my wife could have confidence in growing next onions.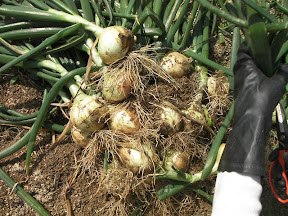 My wife and daughter were preparing the onions for long term preservation with cutting their leaves.
All of the onions are left under eaves of my house. We will knot 2 or 3 onions with vinyl cords and hang them out.
-- from iPad