Stir-fried pak-chois with sliced bacons
Ingredients:
・ 3 bunches of pak-chois
・ Sliced bacons (150grams)
Mixed seasoning
・ water (150cc)
・ 2 tablespoons of powdered chicken stock
・ salt
・ say sauce
・ sake
Method
1 Cut pak chois and sliced bacons.
2 Making the mixed seasoning soup by mixing water, powdered chicken stock, say sauce. You can add salt and sake according your taste.
3 Pour 1 tablespoon of oil to a pan, heat it for a while and grill sliced bacons first. And then put pak chois and grill them together. When the pak chois've became tender, pour the mixed seasoning into the pan and boil them for a few minutes.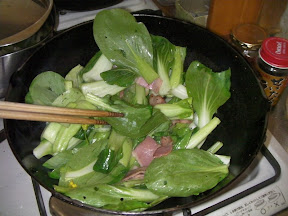 4 Serve the dish and done.
-- from iPad