I send today's harvest, bunches of komatunas, spinaches, pak-chois, and onions, to my friend in my university days who lives in Kamakura, near Tokyo. I've heard his family has suffered the shortage of vegetables caused by the ban on commercial distribution of vegetables produced in the radioactive-contaminated area.

Especially, most of spinaches which are consumed in Tokyo area are produced in Ibaragi and Fukushima pref, where are devastated by the accidents of nuclear power plants. The Japanese government decided to limit distribution of spinaches as well as other vegetables.
Consumers,including my friend, in the Tokyo area have been facing difficulty to buy vegetables.
And the consumers feel it scary that they might buy radioactive-contaminated vegetables in their local shops and they seem to seek other suppliers of vegetables outside the areas to get "safe vegetables".
I and my wife packed the vegetables in a cardboard box and send it with a courier service. I hope my vegetables may help his family.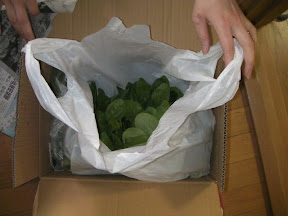 -- from iPad