Do you want to use a new electric tool to test it as soon as you've bought it? Yes, I do!
We made hot chili powder and oil using a new electric blender which my wife bought.
After we've got rid of seeds from chilies, we put them a glass case of the blender and turned it on and then,,,,,?
Here is a hot chili powder!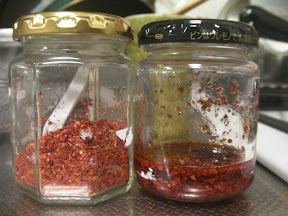 Besides the powder, we made hot chili oil, which is my favorite condiment, with adding boiled sesame oil to the chili powder.
-- from iPad