If we can get Chinese cabbages in winter, most of us in Japan usually enjoy Nabe ( a dish cooked in a pot ) adding the cabbages , meet, fish and other vegetables. I have been having a dream of cooking a Nabe dish using Chinese cabbages we harvested and today the dream has come true!
Today's nabe was boiled with chicken stock. But we added our home-made
Hot chili oil
as a condiment to the dish. The oil can make the taste so hot ,spicy and delicious that we could warm ourselves warm.
Beside the Nabe, we enjoyed " Daikon steak ".
My wife grilled thick sliced white radishes with butter. Salty butter go well with daikon's taste.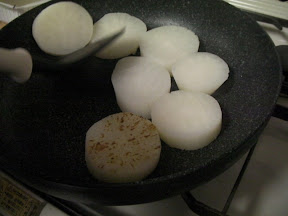 After enjoying Nabe, we usually cook porridge in the same pot.
The soup with tastes coming out of pork and chinese cabbages can be absorb by rice.
Our hot chili oil took a important role in the porridge, too.
-- from iPad