As the Christmas or year-end are upcoming, we might have some opportunities to hold parties where we can enjoying eating, drinking and talking with your family members, friends, colleagues.
In Japan we customarily hold what we call "the forget-the past year-party" at this season. The party is held literally to forget whatever unpleasant things, bad lucks and difficulties happens in the year.
Today my family held the party at my favorite Yakiniku ( grilled beef in the Korean style ) restaurant near my house.
Sliced strips of beef are served on our table with the special sauce.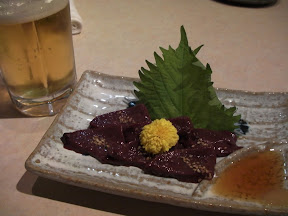 At first, we enjoyed slice row cow liver as an appetizer with dipping them with salt and sesame oil. That is a favorite menu of my family.
We grilled the beef on a heated iron net, which is the Korean style.
"Grill, baby, grill!
Another source of our stamina is sliced garlics boiled in sesame oil.
We should not forget eating vegetables when we eat beef for balance of nutrition. That is "Kimuchi" or cabbages which are picked in hot chili based source.
-- from iPad