Bamboo shoots are used so often in Japanese dishes and now it's a good season to enjoy fresh bamboo shoots. My colleague in my office have a bamboo forest in the backyard of his house and brought fresh bamboo shoots for me.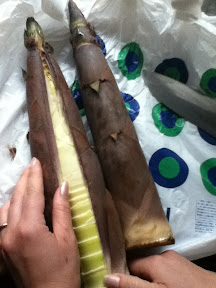 Bamboo shoots have some amount of tannin which is bitter taste so we usually boil bamboo shoots to get rid of the tannin after peeling them off.
After boiling them and throwing out boiled water, my wife added fish broth, soy-sauce and scraped dried bonito to the boiled bamboo shoots and boiled them together for a while.
It's my best favorite way to enjoy bamboo shoots.
-- from iPod touch