Flowers give me hope and prospect for future's good harvests.
Today I found some flowers of my egg-plants, tomatoes and buds of my black chili.
I saw buds of black chili for the first time. I wish those buds could lead me to the joy of a good harvest,,,.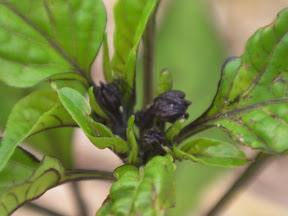 "紫蘇/Shiso or Green perilla (Perilla frutescens var. crispa)"
, a kind of herbs, have germinated in my soil bed. Shiso is used so often for summer dishes in Japan like a sauce for cold Somen-noodle ( Japanese wheat noodle) as condiment. I hope they will have grown by summer when we can enjoy the Siso-flavored dishes.
My little red riding hood hoed my planting beds ..
-- from iPad