Today I found some pak chois and komatsunas have germinated in a vinyl tunnels which was been set up
last weekend.
Those komatunas germinated in 6 days, about 1 week faster than other komatunas and pak chois which had been seeded in January.
We have fine and warm days this week with appropriate precipitation, which can contribute to the faster germination but I also recognized the air inside the tunnel can be too hot up to 34deg C in sunny days so I have to come up some ideas for cool-down and ventilation.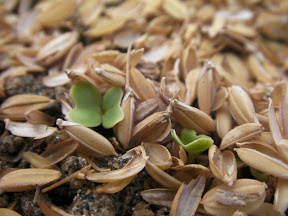 -- from iPad