Today I bought 1kg of potatoes (Danshaku) and planted in one of my planting beds after some preparation.
Usually a potato has many buds or eyes around it but each seed potatoes should one or two buds on it so I cut them into a half before planting them.
Cutting surface of the seed potatoes should be covered with ash powder, which can avoid disease infection.
My son helped planting the seed potatoes in a bed.
In the mid of June they will be grown with many potatoes, I believe.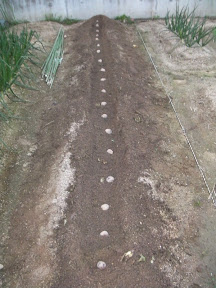 -- from iPad