Today my family visited my wife's father's home in Nara.
After having lunch we had spare time so we walked on a river bank near his home. We enjoyed walking seeing a beautiful scenery from the bank and some signs of early spring.
Many daffodils were blooming on the bank which entertained walkers.
Beside the river banks, there are many and large paddy fields and vegetable farming plots. The river runs from a big reservoir and the water is used for irrigation for them. Long mulches are found in the photo shown below, where onions are planted.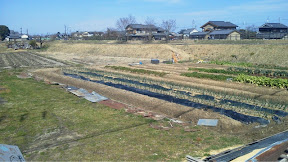 There are some movable dams in the river. They take an important role in securing and distributing water for irrigation.
Many irrigation canals stretch from the river and distribute plenty water.
-- from iPad