Since this year's rainy season ended, my vegetables have been growing and getting mature faster and my black chili is no exception. I wondered if they would have been grown well in my garden since they are so rare kinds of chili produced in the limited areas in Nara prefecture that they would be adopted to the soil and environment of my garden.
Now I'm very happy that you can see many fruits of my black chili in the photos shown below!
Today I harvested a bunch of my black chili successfully and they still have many flowers and buds so I can expect that they can be productive in a few mouths.
Today's harvest
I call it "Black chili".
But it's not truly black but deep purple.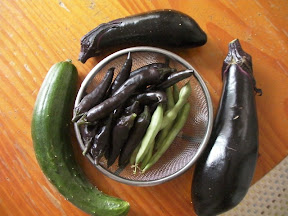 Today's harvest.
20 black chilies
2 egg plants
1 cucumber
After harvesting them, I cooked the black chilies with sliced sausages and green beans.
It's very interesting that my black chilies have turned "green" as they were grilled! I don't know what the mechanism. The taste of black chili is not hot but is like that of okras. Anyway, yummy!
-- from iPad