It's very enjoyable for us to grow summer vegetables because we can see colorful fruits as I found green peppers, red ripen tomatoes, purple fleshy eggplants.
My green pepper are so healthy that I've already harvested many of them.
I have payed more attention to my tomatoes this year to make them more delicious. I watered them too much last summer so their taste was weak and watery. I don't water them too much this summer but give them more fertilizer since the fruits started getting ripen. The method seems to work out and my tomatoes this summer are strong-tasting than last ones.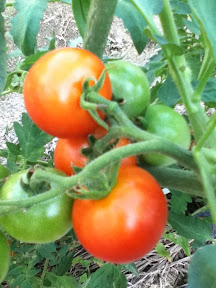 My cucumbers and egg plants are so productive that I have to harvest every day! I don't wanna make them too bigger since too big fruits are not tasty and crispy.
-- from iPod touch