How can we see when we should harvest potatoes? I've been wondering when I should but today I found some leaves of potatoes have turned into yellow and fallen on to the ground, which is a sign for harvesting potatoes many gardeners say. So I dug out some potatoes for a test and see if I can harvest or not.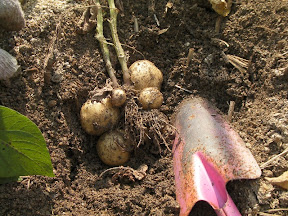 Before digging out, I thought it was still early to harvest them but my assumption has changed into my hope! I dug the smallest potato sprout but 5 or 6 middle size potatoes were found in the soil!! A half of all leaves of my bigger potatoes are yellowish so in a few days I can harvest most of my potatoes!
The point I worry is the size of potatoes. The early start of a rainy season might shorten the time for potatoes to getting ripe.
-- from iPad