Since my last blog on my black chili, much flowers of my black chili are blooming. All of the black chili's trees also have became taller so the growth gives me a hope for good harvest of the black chili.
The flowers are small but so cute and attractive that My kids are also very curious about the flowers.
I found one more thing beautiful and exciting today! One black chili's fruit was found in a tree of the chili! I expect that it will take a few weeks to see mature fruits and harvest them. The black chili is a indigenous type, which was produced and grown in the limited areas in Nara prefecture for long time, so I wondered if mine could grow in my garden.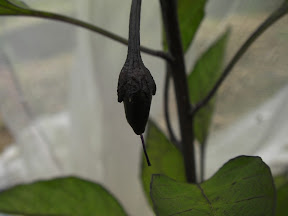 -- from iPad