I believe shopping is enjoyable for people even if we are spending austere and frugal days in the world economic slowdown. In addition to the Japan's economic slump, we are facing soaring oil price caused by unrests in the northern Africa. I have to admit we are gonna deal with the situation by spending cuts and seeking low-priced goods.
I don't mean I would give you some lectures in the world economy but we have to find good shops in my neighborhood where can offer discounted goods with good quality.
Today I went shopping at one of local home centers for seeking some goods for my garden. The shop is the biggest of all home centers in my city stocking regularly wide variety of gardening goods, seeds and sprouts.
It has a large parking lot and that's why many gardeners and farmers come to the shop especially in a weekend.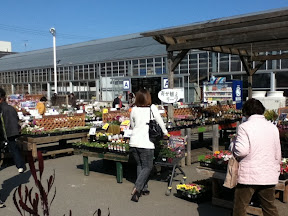 Just seeing inventories of gardening goods like packs of composts, insect screens, irrigation hoses is very enjoyable, isn't it?
Today's purchases are,,
1. a 1.5m-wide vinyl sheet
2. 5 plastic round arches
3. 10 plastic pegs
Those are used for setting up a new vinyl tunnel.
Shopping can sometimes allure us to buy something which we don't know if we really need. In many cases, they could be some gorgeous gadgets with latest technologies like a compact battery-driven cultivator shown below.
I sometimes enjoy IMAGINING how conveniently I could cultivate hard soil as an woman in the poster shown below,,,,.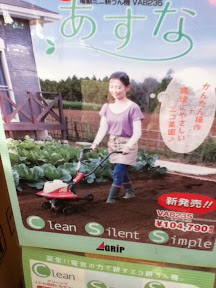 -- from iPod touch