What can make such big difference between sweet fruits and hot fruits on the Earth? Some fruits are so sweet that many adults and kids get attracted while others are so hot and spicy that many chefs love to add them to make their dishes much tastier.
In a corner of the precinct where my gardening plot is located, there is a tree of persimmon and many persimmon fruits have ripened.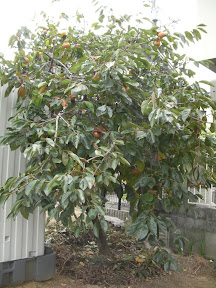 Some gardeners including me recognized that the fruits are grown but we didn't know they were sweet or not since it's difficult to see at a glance if they are sweet persimmon or sour persimmon.
But according to the landowner of our garden, the tree is a sweet one and the fruits are also very sweet! The landowner was so kind and generous that he approved us to harvest them!
I and my gardening friends shared about 20 persimmon fruits and I got 9 of them. My family love persimmon fruits so I'll cut them and serve for a dessert after dinner.
My HOT fruits were also grown and ripen on my red-chili tree! I harvested about 20 red chili fruits. As temperature down, we are going to have craving for a Nabe-dish (hot-pot dish) and spicy red chili is gonna take an important role in making Nabe tastier.