Today I and my daughter harvested all of my ripen cabbages and Chinese cabbages.
My cabbages are so healthy that no holes by bugs have been found on their leaves while my Chinese cabbages were affected by young worms and aphids, but edible.
My cabbage with big heart.
My purple cabbage, smaller than green one.
My daughter were curious about how to use a sickle so it was a good opportunity for her to learn it. She tried to cut a trunk of a cabbage but it was too thick and hard for her to cut it out.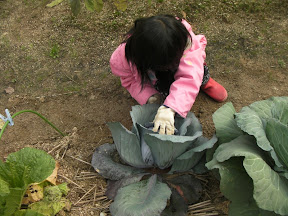 After about 5-minute struggle, she eventually cut out the heart of the cabbage.
Today's harvets


2 cabbages / 2 Chinese cabbages

1 purple cabbage
What is the inside of a purple cabbage like? To see it, I cut it into a half after I went back with today's harvests. It was very beautiful! The combination of purple leaves and white flesh was so impressive to me!
I made " a green and purple salad ". I wish I had red tomatoes which would had made it more colorful.