I started gardening not only for enjoying vegetables grown by myself but for educating my kids about how our foods are produced.
Now my kids can do some jobs like watering, cultivating and finding and killing bugs.
Today I and my kids found many bugs on my cabbages to getting rid of them.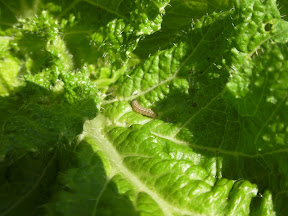 When they started helping me in my garden last year, they were scared of even small young worms like shown above. But now they can find them and dare to crush them into their hands.
It may sound cruel but I'm very happy that they are my reliable helpers and they have understood we live on sacrifice of other animals, bugs and plants.
We have to kill animals, plants to process and protect our foods. That's I wanted my kids to know through helping me gardening. They feel sorry for killed bugs. My daughter said " If I hadn't killed the bug, it would be a beautiful butterfly in the future." But they love to eat more vegetables than they used to. It's ironic but educational that killing bugs can teach them the importance of life.
-- iPad