Today I found many bags like young worms and herds of aphids in mu Chinese cabbages.
I have dealt with attacks by young worms and caterpillars and today ten young worms were picked up and removed out of the cabbages.
I'm astonished with the fact that many aphids live inside my Chinese cabbages! The proliferation of aphids have never been found in my garden.
I wonder how and when they came to my cabbages from where. Anyway, they have to be removed immediately for healthy growth of my cabbages.
I want to avoid using chemical pesticides as possible as I can. So I tried a new way introduced in a blog by a gardener in Japan. It's a mixture of water, salad oil and kitchen detergent. The gardener said spraying the solution on aphids is so effective since the emulsified oil can wrap around an aphid and choke them off to death. Mixing rate is water/500ml, salad oil/5ml and a few drops of detergent.
I wondered what would happen to the aphids after spraying but I could see the good result. After spraying on them, they stopped moving! They seemed to be suffocated.
I will check the effectiveness tomorrow and see if the aphids are truly killed.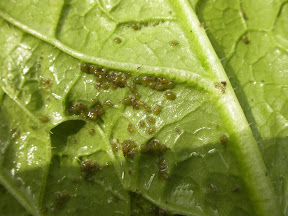 -- iPad