Today my family visited my wife's aunt, who is not only my teacher of gardening but also a farmer who grow various kinds of vegetables and rice.
When we arrived her working space, she and her friends were so busy in cutting and packing
Molokheiyas or
nalta jutes (
Corchorus olitorius
L.
)
for distributing to local supermarkets. Her products is so famous for their tastes and nutrition.
Molokheiyas are getting popular among many Japanese including some health-food freaks since their nutrition like vitamins, iron and calcium and they are used in many kinds of supplements.
My wife's aunt and friends were cutting swiftly their roots, trunks and old leaves, scaling their weight and packing them into vinyl bags. And they check their appearance carefully because Japanese consumers pay attention to beautiful appearance and shape of goods.
Today's harvest
1 Shishito peppers
2 Purple peppers
I believe you can see easily how big leaves in the photo shown below are! Compared with my daughter, they were taller than my kids! They are a kind of taro or eddoe (Colocasia esculenta、) and they are called "Satoimo" in Japanese. We cook their cut trunks boiling with say sauce or broth.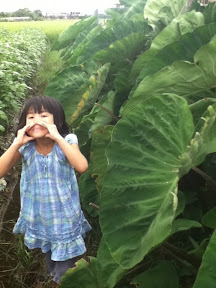 Today's dinner is stir-fried Shishito peppers and pumpkin

croquettes