Now my kids are enjoying 1-month summer vacation. Should parents consider how their kids spend their vacation? Oh, yes they, including me and my wife, should for their education. We should not let them spend a whole vacation watching anime-tv marathons and playing video games.
I bought a Nintendo video game for them last Christmas but they seem to be less interested in it than other friends of them, fortunately. What my daughter is interested in is helping me in gardening, especially in harvesting while my son is into playing baseball belonging to a baseball club of his primary school.
Today my daughter asked me to take to my garden and to let her harvesting summer vegetables.
" I've got today's dinner! "
I found some deformed egg-plants while most of them


are healthy. I should water more for them.
My daughter is nipping a cucumber.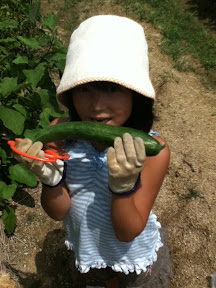 Are you trying to hog the cucumber?
My green chili trees, planted in the end of June, are having many mature fruits. Grilled the chili with sliced beef is a favorite of my family.
My purple okras are also growing healthily with many buds. Purple okra is originated in Okinawa where I've found the locals used the okras in various dishes. You can see their purple stems, which is different from normal green okras.
Watering is my daughter's favorite job. I know she enjoy seeing rainbow in a shower,,,,,.
Today's harvest


4 egg-plants

1 tomato

10 green peppers

10 green chilies

10 black chilis



-- from iPod touch